Newsletter
The veterinarians and staff at Animal Hospital of Pittsford are pleased to provide you with an online newsletter. This fun and fact-filled newsletter is updated on a regular basis.
Included in the newsletter are articles pertaining to pet care, information on our animal hospital, as well as news on the latest trends and discoveries in veterinary medicine.
Please enjoy the newsletter!
Current Newsletter Topics
Keeping Your Kitten or Cat Healthy
Good Nutrition
The very basic requirements for life are food and water. Good nutrition is the foundation of overall health. Since cats are natural carnivores, they require meat-based diets. Luckily, cat owners can choose from a variety of diets certified by the Association of American Feed Control Officials. These products are available from your veterinarian, your feed store or from your grocer. Pet food manufacturers spend huge sums of money touting the benefits of their products and the feeding trials conducted by the AAFCO in order to verify that their pet foods meet quality standards. It is always best to listen to your veterinarian as he or she may recommend a particular diet according to your cat's needs.
Nutritional needs vary with the cat's age and health status. Kittens should consume growth diets until they reach approximately nine months of age. At this age, young cats can be gradually weaned from kitten food to adult cat food. This should be done by gradually increasing the amount of adult food and decreasing the amount of kitten food over several days. If a food is changed too abruptly, this can lead to intestinal disturbances with diarrhea. Cats entering their golden years should transition from adult food to senior cat food in a similar manner. Specialty diets that address dental disease and hairballs are good preventive medicine diets that help avoid these health problems in susceptible cats.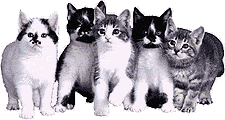 Immunization
Rabies needs to be incorporated into every immunization program. Rabies is transmitted by bite wounds and vaccination protocols are often dictated by state or municipal regulations. Vaccinating cats helps prevent the transmission of rabies to humans.
Feline Panleukopenia (Feline Distemper) is transmitted from one cat to another. The virus is very resistant and can survive in the environment for more than a year. Since maternal antibodies interfere with immunizations, a series of vaccinations needs to be given.
Vaccination is highly effective for prevention of feline panleukopenia. All kittens should be vaccinated, and adult cats should be given regular booster vaccines. The vaccination series begins at six to nine weeks of age, and vaccinations are repeated until the kitten is approximately 12-14 weeks old. An adult cat should receive regular booster vaccines.
Feline Viral Rhinotracheitis and Calicivirus (Feline Respiratory Disease) are common viruses that cause approximately 90 percent of feline upper respiratory disease. These viruses are spread directly from cat to cat through respiratory secretions. Sneezing cats are known for transmitting the disease in catteries, animal control facilities and boarding kennels.
Cats and kittens are infected by contaminated material, as well as by other cats. The disease is occasionally fatal for kittens, though most cats recover. The respiratory disease organisms are extremely contagious, and cats that recover from the disease are often the principal carriers. Without showing any clinical symptoms, these cats can remain carriers for months and even years. Some cats never fully recover from the disease and show symptoms throughout the rest of their lives. Once several cats become infected, the disease is very difficult to eliminate from multi-cat households.
Feline Leukemia Virus (FeLV) is transmitted through respiratory secretion through the sharing of food and water bowls or litter boxes. Mutual grooming, cat fights, and mating can also transmit the virus.
There are no symptoms that are specific for FeLV infection. Tumors, anemia (low red blood cell count), white blood cell and platelet disorders and numerous immune-mediated diseases are common conditions. The main effects of the virus are on the cat's immune system. An infected cat is extremely susceptible to any type of infection. Respiratory, oral and skin infections are common. Chronic digestive and urinary tract problems are also encountered. Vaccination recommendations for feline leukemia are based on the age of the cat and the risk of exposure.
Feline Immunodeficiency Virus causes immunosuppression. Feline immunodeficiency virus (FIV) is spread primarily though bite wounds, making cats that are born of negative mothers, live indoors and never fight at low risk. Conversely, a cat of questionable ancestry that roams outdoors and participates in neighborhood brawls, is at high risk of infection.
Lymphocytes are important cells involved in the body's immune (defense) system. FIV infects and destroys these lymphocytes. Without lymphocytes, immunodeficiency results, leaving the body open to infection. Symptoms associated with FIV are generally due to secondary bacterial, viral and fungal infections.
FIV vaccination is controversial due to the interference of vaccinating with diagnostic testing. Currently available diagnostic tests do not distinguish between a truly infected cat and a vaccinated cat.
Vaccination of FIV negative cats living with FIV positive cats in an unstable social structure, or cats living outdoors that fight frequently, may be potential candidates for vaccination.
Feline Parasitology
De-worming of kittens and cats as part of a preventive medicine program is recommended. When the kittens are three weeks old, they and their mother should be treated with an oral de-worming medication. All kittens should be treated again at regular intervals and their stools should be checked for parasites. The U.S. Center for Disease Control recommends these guidelines not only to protect the kitten, but also to protect humans from possible infection.
Canine Influenza
What is canine influenza?
Canine influenza is a highly contagious respiratory infection of dogs caused by a virus. The canine influenza virus is closely related to the virus that causes equine influenza and it is thought that the equine influenza virus mutated to produce the canine influenza virus.
Two clinical syndromes have been seen in dogs infected with the canine influenza virus - a mild form of the disease and a more severe form that is accompanied by pneumonia.
Mild form - Dogs suffering with the mild form of canine influenza develop a soft, moist cough that persists for 10 to 30 days. Some dogs have a dry cough similar to "kennel cough." For this reason, canine influenza virus infections are frequently mistaken for "kennel cough." Dogs with the mild form of influenza may also have a thick nasal discharge, which is usually caused by a secondary bacterial infection.
Severe form - Dogs with the severe form of canine influenza develop high fevers (104 degrees F to 106 degrees F) and have clinical signs of pneumonia, such as increased respiratory rates and effort. Pneumonia may be due to a secondary bacterial infection.
Because this is a newly emerging disease, almost all dogs, regardless of breed or age, lack immunity and are susceptible to infection. Virtually all dogs that are exposed to the virus become infected, and nearly 80 percent show clinical signs of disease. Fortunately, most affected dogs have the mild form.
Do dogs die from canine influenza
Fatal cases of pneumonia resulting from infection with canine influenza virus have been reported in dogs, but the fatality rate (5 percent to 8 percent) has been low.
How widespread is the disease?
The first recognized outbreak of canine influenza in the world is believed to have occurred in racing greyhounds in January 2004 at a track in Florida. From June to August of 2004, outbreaks of respiratory disease were reported at 14 tracks in 6 states (Alabama, Arkansas, Florida, Kansas, Texas, and West Virginia). Between January and May of 2005, outbreaks occurred at 20 tracks in 11 states (Arizona, Arkansas, Colorado, Florida, Iowa, Kansas, Massachusetts, Rhode Island, Texas, West Virginia, and Wisconsin). Infection has also been confirmed in pet dogs in California, Connecticut, Florida, Georgia, Massachusetts, North Carolina, New Jersey, New York, Ohio, Oregon, Pennsylvania, Washington State, and Washington, DC. It is now found in most states in the continental US.
How is a dog with canine influenza treated?
As with any disease caused by a virus, treatment is largely supportive. Good animal care practices and nutrition assist dogs in mounting an effective immune response. In the milder form of the disease, a thick green nasal discharge, which most likely represents a secondary bacterial infection, usually resolves after treatment with antibiotics. In the more severe form of the disease, medication and hospitalization are often required.
Is canine influenza virus transmissible from dogs to humans?
To date, there is no evidence of transmission of canine influenza virus from dogs to people.
Do I need to be concerned about putting my dog in day care or boarding it at a kennel?
Dog owners should be aware that any situation that brings dogs together increases the risk of spread of communicable illnesses. Good infection control practices can reduce the risk of infection; however, the risk still exists.
My dog has a cough. What should I do?
Schedule an appointment with your veterinarian so that he or she can examine and evaluate your dog and recommend an appropriate course of treatment.
Canine influenza virus can be spread via direct contact with respiratory secretions from infected dogs, and by contact with contaminated inanimate objects. Therefore, dog owners whose dogs are coughing or exhibiting other signs of respiratory disease should not participate in activities or bring their dogs to facilities where other dogs can be exposed to them. Clothing, equipment, surfaces, and hands should be cleaned and disinfected after exposure to dogs showing signs of respiratory disease to prevent transmission of infection to susceptible dogs. Clothing can be adequately cleaned by using a detergent at normal laundry temperatures.
Is canine influenza transmissible to from dogs to horses or other animal species?
At this time, there is no evidence of transmission of canine influenza from dogs to horses, cats, ferrets, or other animal species.
How to Give Your Cat a Pill - Video
When your veterinarian prescribes medication to treat your cat, and it's in pill form, you may be at a loss as to how to hold her down and force her to swallow it. It doesn't have to be as traumatic as that. The following video shows how to give the cat a pill quickly and without injury to you or your cat.
Common Genetic Disorders - Advances in Diagnosis and Counseling
Managing genetic disorders through breeding recommendations requires accurate diagnosis of affected individuals. Your veterinarian can offer practical recommendations to maintain breed lines and improve the overall health of breeds.
If you are currently a breeder or are thinking about breeding your pet, you should consult with your veterinarian in order to establish guidelines. Today, there are new tests and information available to help identify carriers, methods for breeding away from defective genes and ensuring that the defective genes are not reintroduced in future matings.
Canine Hypothyroidism
Hypothyroidism is a commonly misunderstood hereditary disorder. Researchers have concluded that almost all primary hypothyroidism in dogs is caused by hereditary autoimmune thyroiditis. Studies on the mode of inheritance in dogs have been inconclusive to date.
The majority of dogs affected with autoimmune thyroiditis develop measurable antibodies to the thyroid gland and thyroid hormones between two to six years of age. After several months to years, the thyroid gland is destroyed, thyroid hormone levels drop, and without the antigenic stimulus of functional thyroid tissue, the antibody levels return to normal. To screen for the disorder, a thyroid profile, including thyroid auto-antibodies, needs to be run between two to six years of age.
According to data from the endocrinology lab at Michigan State University, more than 10 percent of dogs from the following breeds are affected: English setter, Dalmatian, Basenji, Rhodesian ridgeback, Old English sheepdog, Boxer, Maltese, Chesapeake Bay retriever, Beagle, Cocker spaniel, Shetland sheepdog, Siberian husky, Border collie, Husky, Akita, and Golden Retriever.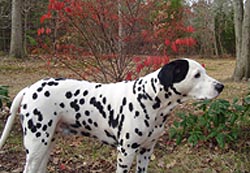 Cancer
A familial, or breed related incidence of cancer is being investigated in several breeds. These include lymphoma, osteosarcoma, hemangiosarcoma, melanoma, and mast cell cancer. The research is focusing on inherited mutations in tumor suppressor cells (which act to prevent cancer), or ontogenesis (that promote cancer).
Osteosarcoma is most prevalent in Great Danes, Saint Bernards, Doberman Pinchers, and Labradors. Skin and soft-tissue cancers are most prevalent in Saint Bernards, Bassett Hounds, German Shepherds, Golden Retrievers, English Setters, Great Danes, Pointers, and Flat-Coated Retrievers. Mammary tumors are most prevalent in Pointers, Poodles, Pulik, Cocker Spaniels, German Shorthaired Pointers, and Boston Terriers. Melanomas are most prevalent in Scottish Terriers, German Shorthaired Pointers, Cocker Spaniels, Pointers, Weirmeraners, Golden Retrievers, and Boxers. An overall reduced cancer risk is found in Dachshunds and Beagles.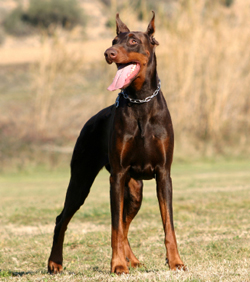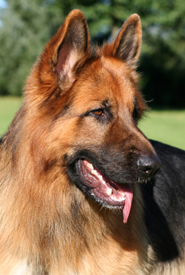 Gastric Dilitation/Volvulus (Bloat)
Bloat occurs primarily in the large and giant breeds. Researchers at Purdue University conducted an epidemiological survey and found that the Great Dane has the highest average lifetime risk of a bloat episode. The risk is 42.4 percent. Other breeds at higher-than average risk include the Bloodhound, Irish Wolfhound, Irish Setter, Akita, standard Poodle, German Shepherd Dog, and Boxer.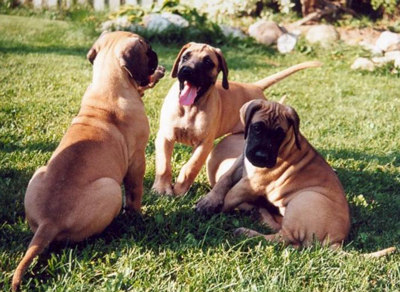 Several risk factors were identified. The dogs with the greatest risk of developing bloat have one or more of the following: An increased measurable chest depth to width ratio, are lean versus overweight, eat quickly, have a nervous or aggressive personality, or eat a single large meal per day of dry dog food.
Dogs do not inherit bloat; they only inherit a predisposition for the condition. Perhaps the best selective tool against bloat is the chest-depth to chest-width ratio. Dogs that have lower ratios (larger chest widths) and whose litter mates have not bloated are the best breeding candidates. If prospective breeding dogs are compared, and breeders select against those with high ratios, the prevalence of bloat should diminish.
Progressive Retinal Atrophy
There are several forms of PRA, and these vary in age of onset, the type of cells affected (rods, cones, or both), the speed of progression, and the mode of inheritance. In the Collie and the Irish setter, PRA may be diagnosed with an ophthalmoscope as young as four to eight months. In the Australian Cattle Dog, Chesapeake Bay retriever, English Cocker Spaniel, Labrador Retriever, Nova Scotia Duck Trolling Retriever, and Portuguese Water Dog, affected dogs may not show ophthalmoscopic signs of PRA until six to eight years of age. An electroretinogram (ERG) can diagnose affected dogs prior to visible changes in the back of the retina.
Several breeds have genetic tests to identify dogs as carrier, affected, or normal. The tests are specific for the particular mutation in each breed.
Genetic Disorders in Cats
Pedigreed cats have several hereditary disorders which require screening and counseling. Thirty-eight percent of all Persian and Himalayan cats have an autosomal dominant polycystic kidney disease. Many of these cats develop kidney failure, while some only develop isolated cysts that do not impair normal kidney function. A genetic test for this disorder is now available.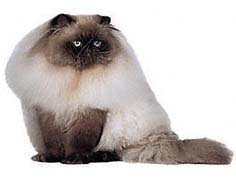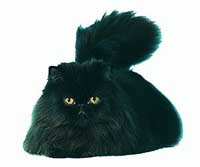 The Maine Coon cat breed has a dominantly inherited hypertrophic cardiomyopathy, as well as a high incidence of hip dysplasia. Both disorders are commonly identified in this breed. Renal amyloidosis is a hereditary disorder found in the Abyssinian breed.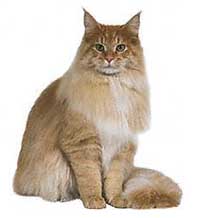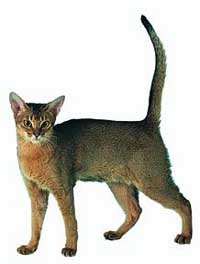 Other frequently encountered genetic disorders in dogs and cats include: deafness, porto-systemic shunts, various types of bladder stones, elbow dysplasia, patella luxation, and Legg-Perthes disease.
Genetic Counseling
The goal of genetic counseling is to effectively reduce the spread of defective genes while preserving the health and genetic diversity of the population.
There are no breeding recommendations that fit every situation. There are, however, guidelines to preserve breeding lines and genetic diversity while reducing the risk of producing carrier or affected individuals. Protocols for genetic counseling and breeding management of genetic disorders can be based on the known mode of inheritance and the availability of genetic tests.
For breeding advice, consult your veterinarian. He or she is your best source for information about breeding your pet.
Feline Mammary Tumors
Mammary tumors are among the most common tumors in the cat. The average age of diagnosis is 10-12 years though it can be seen in cats of any age. Most affected cats are intact females, however, the disease is occasionally seen in spayed females and, rarely, in male cats. Almost 90 percent of feline mammary tumors are malignant, meaning they have the potential to spread to other portions of the body. Since malignant tumors tend to metastasize rapidly, containing the spread can be difficult and requires immediate attention.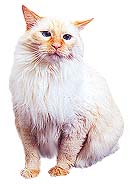 To date, surgical excision at the earliest possible opportunity is the most effective therapy for any mammary tumor. If the tumor is benign, complete surgical excision is curative. If the tumor is malignant, post-surgical treatment with chemotherapy, immunotherapy or radiation therapy may be warranted. With conservative surgery, more than half of the cats have a recurrence at the surgical site. The most significant predictive factors affecting recurrence and survival times for cats with malignant mammary tumors are tumor size, extent of surgery, and the grade of the tumor.
Tumor size is the single most important factor. Cats with tumors larger than 3 cm in diameter have an average survival time of four to six months, whereas cats with tumors 2-3 cm in diameter have an average survival time of about two years. Cats with tumors less than 2 cm in diameter have an average survival time of over three years. Thus, since the size of the tumor clearly affects the survival time of the cat, early diagnosis and treatment is vital in cats with mammary tumors.
There are various treatment options for a cat diagnosed with a malignant mammary tumor. However, since size and grade of mammary tumors vary, some treatments may not be an option. Consult your veterinarian to find the best treatment for your cat.
Dog Divas and the Pet Industry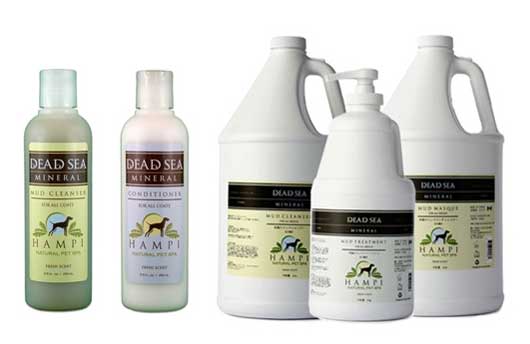 Calling All Dog Divas: Why the Pet Industry Remains Strong
Even with a declining economy, there is one place many Americans are not willing to make a cut – their pets. As other industries go down, the pet industry has remained remarkably resilient. Last year, Americans reportedly spent $55 billion on their fury companions. Wonder where all this money is going? Although veterinary services saw a 7% increase in the last year, this was not the only place of growth. Rather, dogs and cats are being treated to trendy human-like luxury items such as gourmet and organic meals, stylish clothes, eco styling products, and even pet exercise equipment.
The Global Pet Expo held in Orange County revealed just how far pet owners will go to pamper their pets. Many of the pet food vendors were even seen nibbling on the food themselves in order to emphasize its great taste and nutrition. With food like pan-seared duck and black-and-white quinoa on the menu, can you blame them?  Although not all animal owners are indulging their pets in 5-star cuisine, the importance of providing a healthy diet is extending beyond your family's plates and into the doggy dish. "Pet owners aren't just looking to provide a home for their pets," says Bob Vetere, president of the American Pet Products Association. "They are investing in their pets' quality of life."
How can you spoil your pet? Here are a few products that are sure to enhance your dog's diva rating:
Bottles of Pet Pop of Australia's vitamin-infused mountain spring water for dogs
Israeli dog shampoo with Dead Sea minerals
Sniff Pet Candles made of 100% organic products to promote your dog's health and well-being
The Honest Kitchen's fair-trade quinoa from Bolivia and wild, line-caught Icelandic haddock
Now THAT's one diva dog!